Golegã Horse Fair 2021
Photos & Text: Lusitano World
National Horse Fair 2021 – the most awaited horse event of the year
Golegã National Horse Fair is right around the corner and here in Portugal you can already feel the excitement building up among all horse community. After a one-year break imposed by the pandemics, horse lovers are thrilled to be back to the worldwide known 'Capital of the Horse' and everyone is starting to feel that special rush that anticipates this unique and long-awaited event!
From 5th to 14th November the picturesque village of Golegã will become a buzzing hub of festivities with the Lusitano Horse as the main attraction. Be prepared! This centenary event will sweep you off your feet with its unique atmosphere and tradition - it has a lot to offer for those who keep the Lusitanos at heart.


What's on the agenda?
This year's agenda will follow the usual planning of the Fair!
The Model and Gaits competitions always attracts a lot of attention, as here we will see some of the finest Lusitanos, both in-hand and ridden! The Fair will also be filled with dressage, working equitation and other competitions – highlight for the Dressage National Cup – Final, that will take place at Hippos Golegã – High Performance Centre of Equestrian Sports. And of course, later in the evening you cannot miss, within the heart of the town at the 'manga', the outstanding classical equitation presentations and night festivities, that create that mystical and unique environment.
Check out all details on the official program! Check out the english version HERE.


Meet you there!
Lusitano World would not miss this event for the world! We will be at Golegã Horse Fair from 11th to 14th to keep you posted on all the news and, who knows, kick off the search for your own perfect Lusitano partner. One thing is for sure – we simply can't wait to meet you all there!
For now... keep calm, only 3 days to go!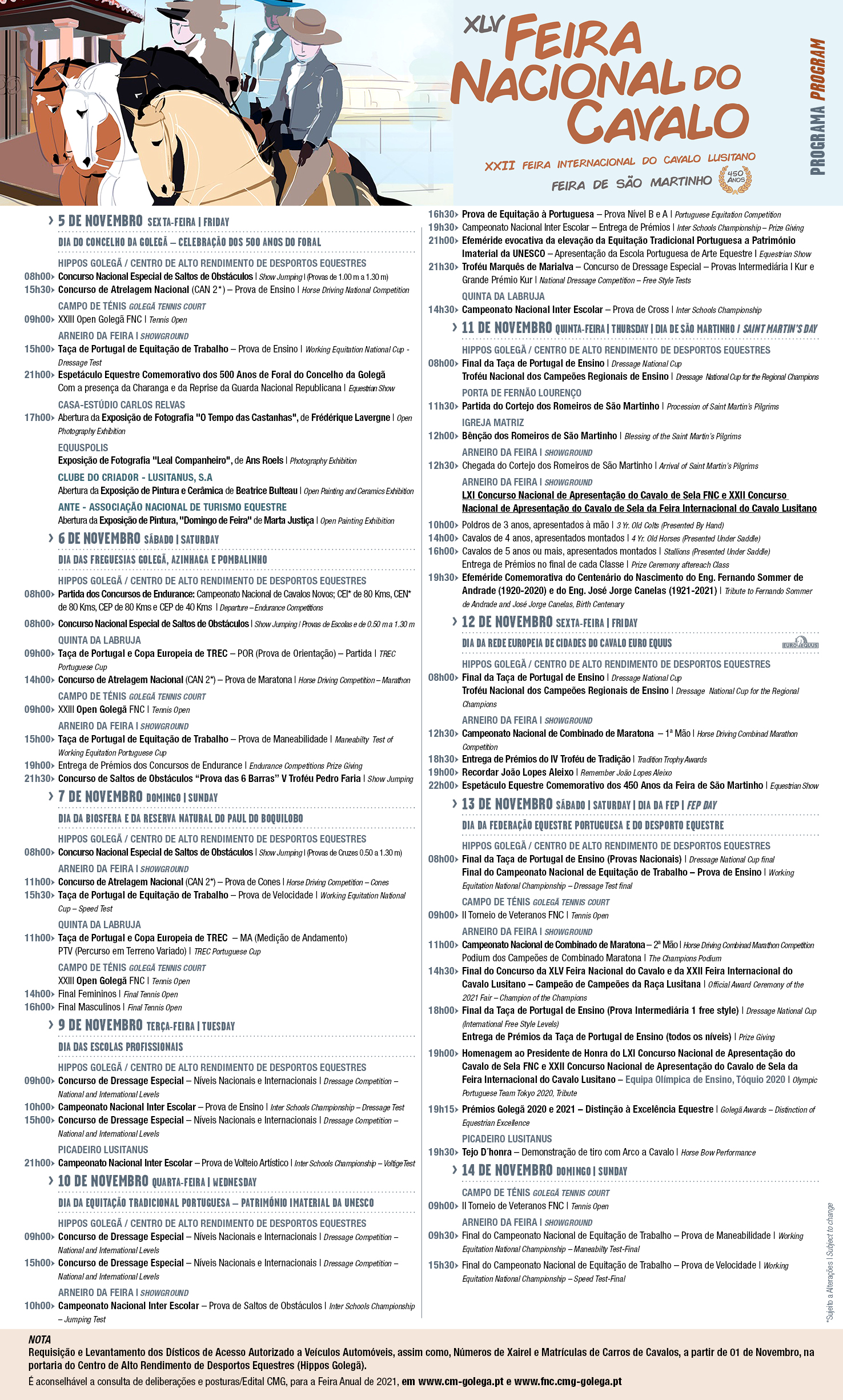 About Us
Lusitano World offers a combination of services dedicated to promote the Lusitano Horse worldwide and to highlight the richness of Portuguese equestrian culture. Visit our website and follow our social media platforms to find out what we can offer.
Our Contacts
Telephone / WhatsApp:
00351 962 103 954