A picture has the magic to make a moment last forever! Join us and learn how to create timeless memories under the guidance of international equine photographer Malin Wengdahl. This Photo Workshop will explore equine photography from different angles, where one of our biggest goals will be to capture the soul and essence of the Lusitano horse in freedom, portraits, herds and the bond between horse and human. Be prepared to visit exquisite locations and to photograph incredible Lusitanos in typical Portuguese arenas. It will all be a delight to the eye and your photographer heart. This workshop will give you new perspectives, skills and inspiration to grow - find out the main features you can expect:
GOAL? TO BE ABLE TO CAPTURE THAT MOMENT!
As a photographer, you'll often wonder if you got the shot, if you managed to capture that elusive decisive moment. The one that makes people pause and take a look! The ultimate goal of this equine photoworkshop is to give you the right tools for you never to miss the best frames! You will receive tips and tricks on how to bring the best out of our striking models and locations and how to choose the best images to make your vision come alive. Explore your photo intuition and create your art!
LEARN IN THEORY. THEN PUT INTO PRACTICE
Start from the theory and put it in to action! Boost your know-how in our three masterclasses: review of basic photo theory, explore the secrets of equestrian photography and learn how to bring the best out of your photo using the edition tools Adobe Lightroom and Photoshop. Bring the learning in to practice at the six incredible photo sessions and edition classes, always with full coaching from our leading photographer to help you achieve an amazing end-result!
FITS ALL WHO ARE EQUINE PHOTORAPHY LOVERS
Not sure this workshop fits you? From amateurs starting their photo journey, to professionals who are looking for living images, this workshop will not disappoint you. Lusitano World will offer you a cultural journey, offer you all theoretical tools to boost your learning curve, and make sure to present you to the most exquisite locations and models – a true dream to accelerate your portfolio building. All ages are welcome – our program has a light activity level.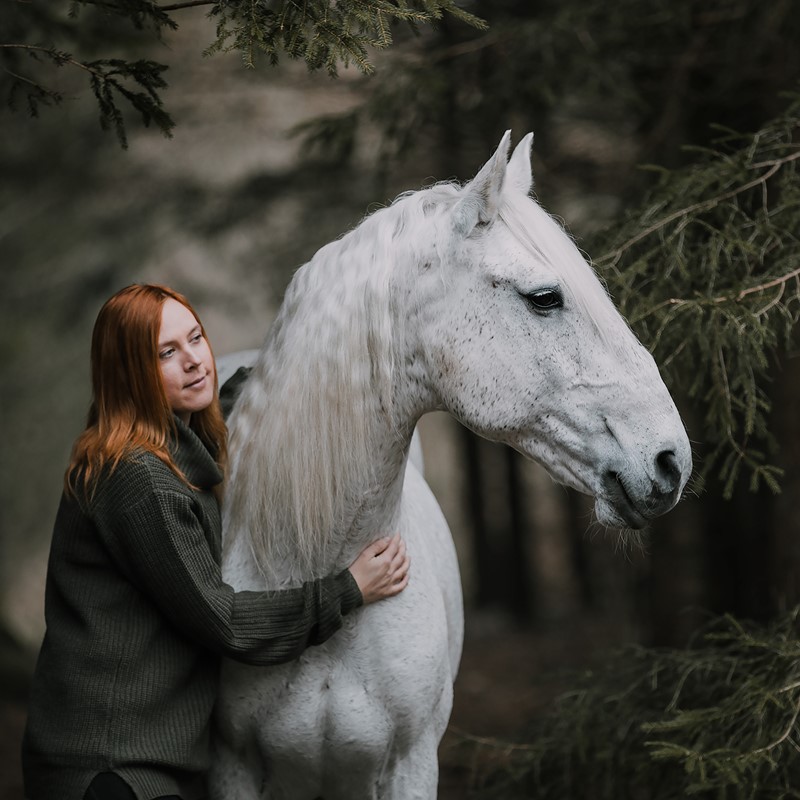 Malin Wengdahl
Leading Photographer
Her photos speak by themselves. Malin is a professional equine photographer from Sweden, who loves inspiring her viewer by discovering and portraying each horse's uniqueness. Passionate about horses and the rich state of emotions they bring us, Malin interprets each horse's spirit and mood, transporting it into her photos. Her work recounts stories about horses, with honesty and passion. 

Malin invites you to join her and... capture the moment: «I'm beyond excited to invite you to the world of Lusitano horses – photographing them is opening up new doors to your own photography and mind. The way they move, the way they are aware of the outside world is something that really touches you. To be able to capture those precious moments and make it a lifetime memory in the form of digital images is something I'm very grateful of – and something I'd love to share with you.»


Check Prices

& Enrollment
Don't wait any longer – secure your place today and join the fun.
Confirm what is included in our price and select the package that you prefer.
INCLUDED in the price
Theoretical and practical sessions
Accommodation in double room
Breakfast included
Transportation during workshop
Transfer from / to Lisbon airport
EXCLUDED from the price
Aircraft tickets
Meals: apart from breakfast
Single Room Upgrade (extra 200€)

Trip cancellation or travel insurance
Check out some of the inspiring models and dream locations that are waiting for you to CAPTURE THE MOMENT!
Frequently Asked

Questions

;
Go the extra mile: join us for a PORTFOLIO DAY
Sign up for an extra special photography time! If you wish to stay one day longer, we have prepared a special program to boost your portfolio! Be ready for an intensive day dedicated to explore, gain inspiration and new perspectives! Enrich your portfolio!
FIND OUT MORE
Before you book, make sure you are fully aware of Lusitano World terms and conditions for this photo-workshop. If you have any doubts get in touch!
RESERVATION FEE
To secure your place for this workshop a deposit of 800€ is required. You can pay via bank transfer or PayPal. Once your deposit is paid you will receive an invoice from Lusitano World where you will also find the due date of the final payment.
ITINERARY CHANGES
As we work with horses and in outdoor environment it is possible that we have to deal with some unexpected events: therefore, the itinerary may be subject to change and will always be replaced with similar experiences. No refunds will be given in the event of an itinerary change.
WORKSHOP CANCELATION
Lusitano World reserves the right to cancel or postpone this Workshop due to force majeur or if the minimum number of 6 participants can not be reached 1,5 months before the starting date – in this event the reservation fees will be fully paid back to each participant.
CHANGE OF LEADING PHOTOGRAPHER
Lusitano World reserves the right to substitute the leading photographer, always making sure that the training level and program are not affected. In this event, participants can postpone their subscription or cancel it with a reimbursement of 80% of the reservation fee value.
INSURANCE & WAIVER OF LIABILITY
We strongly recommend each participant to buy travel cancellation insurance for the flights and to have a travel medical health insurance. Participants will be asked to sign a Release and Indemnity Form before the workshop starts. Be prepared for the unexpected and insure your travel investment!
PHOTO-RIGHTS
Although the participants hold copyright to the photos they take, it is allowed only to publish and post them on social media, websites and portfolios. Participants can expand their right for commercially use of the photos for an extra fee 800€ - this lifetime upgrade can be done any time: before, during or after workshop.
About Us
Lusitano World offers a combination of services dedicated to promote the Lusitano Horse worldwide and to highlight the richness of Portuguese equestrian culture. Visit our website and follow our social media platforms to find out what we can offer.
Our Contacts
Telephone / WhatsApp:
00351 962 103 954